Castleton, like many attractions in Derbyshire, has a nickname; 'Gem of the Peaks'
Castleton lies in the Hope Valley between the Dark and the White Peak areas of the Peak District. The Dark Peak to the north is the area of the Gritstone edges, some of the more well known being Froggatt Edge and Kinder Downfall, whereas the White Peak to the south is the area with the Limestone plateaus.
Castleton is a very popular place with visitors. This may be due to Castleton having almost everything a visitor could want. It has spectacular scenery, a ruined Norman castle dominates Castleton, fascinating Geology, good walks for all abilities, a pretty village, many events throughout the year and a large car park.
In 2009, we would recommend the Castle Hotel for food and drink.
In 2006, we would recommend the Bulls Head for accommodation.
Castleton has a Parish Council that can be contacted via the Parish Clerk.
A bus service connects Sheffield (16 miles away) and Castleton.
271/272 Sheffield - Ecclesall - Fox House - Hathersage - Bradwell - Hope - Castleton
It runs hourly most of the time and the journey time varies between 58 minutes and 1 hour 14 minutes. Use the First Traveller Website for bus timetables from Sheffield to Castleton (route service number 272).
A shuttle bus from Edale and Hope railway stations, linking the stations to the caverns and Castleton, operates at weekends and on Bank Holidays throughout the year. Edale and Hope stations are about a 50 minutes journey time from Manchester. The rail service is scheduled to be about every hour in 2018.
The population of Castleton was around 1,200 in the 2001 Census.
In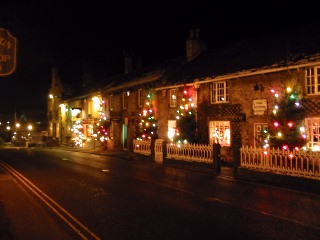 2015 the Castleton Christmas lights will be switched around at 4:30pm on Saturday 18th November. The last day of Castleton's Christmas Lights is usually the first Sunday in January. Other Christmas events include:
Santa's Grotto (weekends)
Santa's horse drawn cart (subject to confirmation)
Children's Rides
Seasonal Music
Late Night Shopping. Weekends in December (this is at shopkeeper's discretion so is not guaranteed).
Carols by Candlelight at Treak Cliff Cavern 2017 on the 16th, 17th, 23rd and 24th December. Admission by pre-booked ticket only. The Treak Cliff Cavern website has further details and a facility to book tickets online or telephone 01433 621487 between 10am & 4pm daily for details.
Carol Singing and Brass Band, Peak Cavern on the 9th, 10th, 16th, 17th, 23rd and 24th December from 6pm. Each evening a different brass band. Mulled wine and Mince Pie on arrival. Admission by pre-booked ticket only. For further details see Peak Cavern Web site.
The village of Castleton is dominated by the keep of Peveril Castle. This Norman castle was built by William the conqueror's son, William Peveril in 1080. It was built to oversee the King's Royal Forest of the Peak, although little of the forest now remains. Originally it was a wooden building but was rebuilt in stone around 1175 and this is the keep we can see today. The present keep was built under the direction of King Henry II. It was here in 1157 that Henry accepted the submission of King Malcolm of Scotland.
Peveril Castle is run by English Heritage. It is currently closed for essential conservation work with no indication of when it will re-open. It's expected opening days were every day from 10am to 6pm from 30th March to 30th September, from 10am to 5pm during October 2018 and 10am to 4pm on Saturday and Sunday from 1st November 2018 to 17th February 2019. It is also closed from Christmas Eve to Boxing Day, Boxing Day Bank Holiday, New Year's Eve and New Year's Day. The visitor centre which opened in 2006 and tells the story of Peveril as the focal point of the Royal Forest of the Peak, a hunting preserve for the Monarchs. Entrance prices will be £5.90 for adults and £3.50 for children (including gift aid). To find out more visit the English Heritage website.
Castleton itself dates from 1198 and is named after the castle (Castle town)! The earliest known settlement was the Iron Age fort on the top of Mam Tor, although it is thought that the there was settlement in the Bronze Age (around 1,400 BC). Even earlier traces of Stone Age man has been discovered in some caves on Treak Cliff - less than a mile from the centre of Castleton.
On Oak Apple Day 29th May 2018 the ancient ceremony of Garlanding takes place and after the Garland has been paraded though the streets, it is hoisted to the top of Saint Edmund's Church tower. The ceremony celebrates the pagan rite for the ending of winter, and the restoration of Charles II to the throne in 1660 after the rule by Oliver and Richard Cromwell (1653-58 and 1658-59).
The one metre (3 foot) high Garland is made from a wooden frame, wound with string to which small bunches of wild flowers and leaves are tied. A further small wreath, called the `Queen` is made from choice garden flowers and is placed on top. The complete Garland weighs about 25Kgs (56 pounds) and just before the start of the ceremony is lifted onto the shoulders of the `King` who is dressed in Stuart costume.
After touring the village on horseback accompanied by his consort, a procession and a band, the King is relieved of his Garland which is then hoisted up to the top of the tower of St Edmunds Church, where it is left to wither. The Queens wreath is placed round the war memorial and in the market place there is Morris dancing and singing.
Castleton village museum contains a display of Garland memorabilia which includes an outfit worn by a King 200 years ago.
If Oak Apple Day falls on a Sunday, the ceremony is held on the Saturday (28th May).
Expected dates (first Sunday in the month 10am to 3pm) in 2018 for the Castleton Farmers' Market are:
7 January
4 February
4 March
1 April
6 May
3 June
1 July
5 August
2 September
7 October
4 November
2 December
See also the dates of farmers' markets in Bakewell, Matlock and Buxton.
Castleton also boasts four show caves. If there is insufficient time to visit all of them, Treak Cliff should be the first choice.
Comparison of Castleton Show Caves in 2018
Show Cave
Opening Dates
Opening Times
Last Tour
Adult Price
Child Price
Telephone Number
Peak Cavern Devils Arse
Daily April to October
10am to 5pm
4pm
£11.25
£9.25
01433 620285
Weekends November to March
Speedwell Cavern
Daily April to October
10am to 5pm
4pm
£12.00
£10.00
01433 620512
Daily November to March
10am to 4pm
3pm
Treak Cliff Cavern
Daily March to October
10am to 5pm
4:20pm
£9.95
£5.30
01433 620571
Daily November to February except December 24th, 25th and 26th
10am to 4pm
3.20pm
Blue John Cavern
Daily except December 25th and New Year's Day (weather permitting)
Summer 9:30am to 5:30pm
4.30m
£12.00
£6.00
01433 620638
Rest of year 9:30 to dusk (about 4:30pm in December)
30 minutes before dusk (about 4pm in December)
This information has been given in good faith and it has to be recognised that the caverns can change their opening times without notice. It is highly recommended that the show cave be contacted by telephone to confirm that they are open.

Castleton Show Caves Information

| Show Cave | Disabled Access | Web Site | Telephone Number |
| --- | --- | --- | --- |
| Peak Cavern Devils Arse | Owing to the nature of the cavern, Peak Cavern may not be suitable for all disabled visitors. Please call or e-mail for information before your visit to avoid disappointment | www.peakcavern.co.uk | 01433 620285 |
| Speedwell Cavern | Owing to the nature of the cavern, Speedwell Cavern may not be suitable for all disabled visitors. Please call or e-mail for information before your visit to avoid disappointment. | www.speedwellcavern.co.uk | 01433 620512 |
| Treak Cliff Cavern | Due to the natural contours of the hillside above and below ground, the cavern is not suitable for wheelchairs. Walking disabled can be accommodated. | www.bluejohnstone.com | 01433 620571 |
| Blue John Cavern | Owing to the nature of the cavern, Peak Cavern may not be suitable for all disabled visitors. Please call or e-mail for information before your visit to avoid disappointment. | www.bluejohn-cavern.co.uk | 01433 620638 |
Peak Cavern/Devils Arse. This cave was formally known as the 'Devils Arse' before being called Peak Cavern and was recently renamed to the 'Devils Arse'. It is in the centre of the village, right underneath Peveril Castle. It has the largest natural cave entrance in Britain and the second largest in the world! It even claims to have had a pub in it at one time.
Rope was made in this cave system, the damp atmosphere being a favourable environment for rope making. Bert Marrison, the last rope maker in Castleton, worked here. His ashes, along with some of his tools, are buried in Peak Cavern.
It is open 7 days a week from April to the end of October. The rest of the year it only opens at weekends. It opens from 10am with last admission at 4pm. Admission in 2018 is £11.25 for adults and £9.25 for children (5-15 years old) with under 5s free. A family ticket is available (2 adults and 2 children) for £37.00.
Speedwell Cavern is at the foot of Winnats Pass. Being only 1000 metres (0.6 miles) from the centre of the village of Castleton, it is a very gentle walk along the road. Speedwell began life in the 18th century as a lead mine, but due to the limited amount of lead it closed after 20 years. During the lead mining period the system was flooded. So, unlike the other show caves, this cave can only be explored by underground boat. This underground canal is about 800 metres long and takes the subterranean seafarer to a so called bottomless pit! It is open most of the year from 10am with last admission at 4:00pm from April to October and 3pm for the rest of the year. Admission in 2018 is £12.00 for adults and £10.00 for children (5-15 years old) with under 5s free. A family ticket is available (2 adults and 2 children) for £40.00
Visitors to both Peak Cavern and Speedwell Cavern can purchase a joint ticket with about a 20% saving on the combined entry prices.
Winnats Pass gets its name from Wind Gates and is a spectacular limestone gorge. Since the closing of the Mam Tor road (see below) Winnats Pass is the only road to the west of Castleton.
Winnats Pass Traffic Flows on a Typical Summer Sunday
1986
1990
July
August
July
August
3759
4001
4949
4860
The other two show caves, Treak Cliff and Blue John are close by. Treak Cliff has the prettiest formations. Treak Cliff Cavern has wonderful names for the caverns within it - names such as Witches Cave, Aladdin's Cave, Fairyland, the Dream Cave and the Dome of St Paul's all with an abundance of stalactites and stalagmites. Treak Cliff cavern was opened to public visitors 1935. Entrance is near the gift and coffee shop. Exit from the cave system is through an adit driven during the 1920's spar mining operations.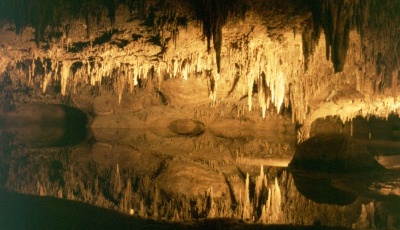 Treak Cliff (admission in 2018 is £9.95. for adults and £5.30 for children), and to a lesser extent, Blue John have veins of a rare mineral called Blue John (from the French Bleu Jaune meaning Blue Yellow). Blue John, which is a form of fluorspar, was discovered as miners were exploring the cave system for lead. Treak Cliff Cavern still mines about 500 kilograms of Blue John each year. The walk through Treak Cliff Cavern is relatively easy but there are a few low roofs and some steps. The veins of Blue John are easy to see and many of the formations are well lit.
Treak Cliff Cavern is open all year except Christmas Eve, Christmas Day, Boxing Day, (weather permitting) from 10am with the last tour at 4:20pm from March to October and 3.20pm from November to February.
The roadway from Treak Cliff Cavern to the Blue John Cavern used to be the A625. This road used to run at the foot of Mam Tor, the Shivering Mountain.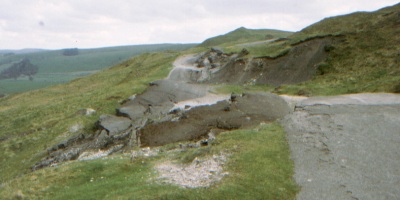 Mam Tor is composed of horizontal layers of shales and gritstone. As water and ice work their way into these layers, they start to crumble, and the hill side is said to shiver. This had caused many problems for road engineers as the crumbling leads to land slips. These land slips have made the road unstable. Often in the past the road suffered from the land slips and has had to be rebuilt. Eventually in 1977 the road was closed. In 2005 it was estimated that it would cost around £100,000 per year to keep the road open. It is possible to walk along the remains of the road that, in places, is reminiscent of an earthquake zone.
Mam Tor was a late Bronze or early Iron age hill fort, although there is little evidence nowadays. It is a steep climb to the top of Mam Tor, but well worth the walk. From the top of Mam Tor, extensive views of the Hope valley are possible.
There is a local tradition that Odin Mine, at the foot of Mam Tor, was worked in Saxon times (around the 10th or 11th centuries).
It is also possible to walk along footpaths back to Castleton. From Mam Tor, follow the footpath along the ridge for about 700 metres to where several footpaths meet at a point called Hollins Cross. To the left is Edale, directly ahead is the hill known as Lose Hill, and to the right is the Hope Valley. In the dip of the ridge, at Hollins Cross, is a marker stone that shows the paths off of the ridge. Take the path to Castleton that is only 1.5 miles away (and all downhill).
For forthcoming and past events in Castleton see Castleton Events.