Blue John is a rare mineral found at only one location in the world. The name Blue John derives from the French Bleu Jaune meaning Blue Yellow. It is a form of fluor spar and was discovered as miners were exploring the cave systems of Castleton for lead.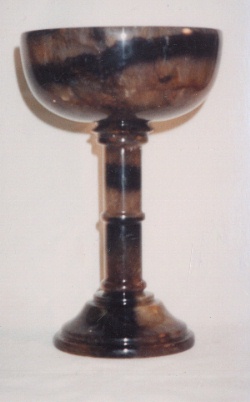 Nowadays, the caves of Castleton are magnificent show caves and are some of the most popular tourist attractions in Derbyshire. Of the four show caves only Treak Cliff and, to a lesser extent, Blue John have veins of Blue John. Treak Cliff Cavern still mines about 500 kilograms of Blue John each year. The veins of Blue John are easy to see and many of the formations are well lit. Blue John is a semiprecious stone and give Castleton its nickname of'Gem of the Peaks'.
Fluorite (the old miners' name for which was Fluorspar) often forms in cubic crystals and is usually grey, yellow or purple in colour. It used to be mined mainly for iron smelting but now has many other uses including toothpaste. One form unique to Castleton is banded purple and yellow or grey and is known as Blue John.
Banded Blue John fluorite has be worked into ornaments since 1750 and there are about 14 categories of banding patterns. A goblet, made, by the craftsman Edward Leonard Fisher, sold at Christies of London in 1998 for £3,000.
Click on the book title to buy direct from Amazon
Derbyshire Blue John Trevor D. Ford

This work looks at the ornate Derbyshire Blue John stone, mined for centuries at Castleton in Derbyshire. The illustrations highlight the 12 different veins of stone and some of the magnificent vases and tables which now grace country houses across the nation. The book describes how the stone war formed, the mineralogy of the area, the mining of the stone, and how it is fashioned into jewellery and ornaments. It also covers the production of Blue John over the centuries and details the notable collections. Trevor D. Ford was awarded an O.B.E. in 1997 for services to geology and to cave science.