Buxton is a major centre in the Peak District and will take several hours to explore. It is also the highest town (around 1,000 feet above sea level) in England so vertigo sufferers should take care!
Buxton still calls itself a Spa town even though its thermal baths are not open to the public and we are not aware of anyone offering hydrotherapy in the town.
Its thermal springs were attractions in Roman times when Buxton was known as Aquae Arnemetiae. Mary, Queen of Scots, visited Buxton on several occasions while being kept a prisoner before her execution in 1587. She used the thermal waters to cure her rheumatism, which was more than likely caused by the damp conditions of the castle prisons.
The best place to start exploring Buxton is at the Tourist Information Office. Not only is this a good place to obtain more information about Buxton and the rest of the Peak District, but it is also central for many of Buxton's attractions.
The Tourist Information office is within metres of The Crescent. Built between 1779 and 1789 by the 5th Duke of Devonshire, to the design of John Carr, it is similar to the equally famous Crescent in Bath. This is hardly surprising as the Duke was attempting to establish Buxton as a fashionable spa and a challenger to Bath. The Crescent was originally conceived as two purpose-built hotels separated by six lodging houses, and over the years has boasted a mixture of coffee shops, card rooms and ground floor shops.
No doubt, many people have heard of and drunk Buxton bottled Spring water (which comes from 5,000 feet below). But how many are aware that in Buxton it is free! Just opposite the Tourist Information Office there is a public well where anyone can fill their flasks and bottles.
Opposite The Crescent is the Pump Room, next to St Ann's Well. The Pump Room was built in the late 19th Century as a place where people could come to take the unique thermal mineral water. It ceased use as a Pump Room in the mid 1970s and became a Micrarium where microscopic organisms and geological specimens could be studied by the public. This was the world's first Micrarium but sadly closed in 1995.
Both the Buxton International Festival of Music and the Well Dressings are held in the second week of July.
The Edwardian Opera House in Buxton has recently been restored and has a varied program throughout the year including comedy, children's shows, and of course, opera.
If the weather is fine, it is a pleasant walk though the Pavilion gardens to Poole's Cavern, 1000 metres (¾ mile) away.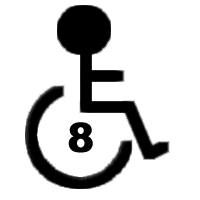 Poole's Cavern is open daily, from 10:00 a.m. to 4 p.m from November to February and from 9:30 a.m. to 5 p.m for the rest of the year. Admission for 2018 is £9.95 adults, concession £8.75, children aged 5-16 £5.50, Family (2 adults and up to 3 children) £27.00. For further details see Poole's Cavern website.
There are a large free car park, picnic area, and public conveniences adjacent to the cavern.
Access in the cavern is easy, and at one time it was advertised that bath chairs could negotiate the whole length of the underground route. Nowadays, it is advertised as accessible by wheelchairs.
The system is basically a limestone cave with interesting Stalactites and Stalagmites (including one formation known as Poached Eggs). It is easy to remember the difference between Stalactites and Stalagmites because StalaCtites come down from the Ceiling, and StalaGmites grow up from the Ground. The Cavern has the longest show cave view in Britain.
It is said that the Romans worshipped at Poole's Cavern.
The River Wye runs part way through the cave system and re-emerges above ground at Wye Head Springs, between Poole's cavern and the centre of Buxton.
Poole, after whom the cavern is named, was not a local dignitary, but rather the local villain who, in the early 15th century, used the caves as his lair.
Poole's Cavern lies within the Buxton Country Park. From the car park a woodland path leads up to the summit of Grin Low (437m) above sea level. The park is a good place to walk, picnic, or watch birds and wildlife.
Go Ape also have a high-wire forest adventure in the park where you can experience rope bridges,Tarzan swings and zip slides. They are open daily at February Half Term, Easter, May Half Term, Summer Holidays and October Half Term, but closed on Tuesday and Wednesday during school term time. During November they open on weekends only. They are closed in December and January. For further details see Go Ape website.
For forthcoming and past events in Buxton see Buxton Events.