The Barrow Hill Engine Shed Society, looks after the Barrow Hill Roundhouse and other building. It was first opened to the public in July 1998. In 2009, they are are open at weekends between 10:00 and 16:00. Due to the size of the site they suggest you arrive no later than 15:00. They will be closed on Saturday 1st and Sunday 2nd August in preparation for the Diesel Gala Event the following weekend. For a small donation they would be pleased to give you a guided tour of the roundhouse. The Deltic Depot is normally open for viewing most Saturday's.
The preserved roundhouse at Barrow Hill, near Chesterfield in Derbyshire, is part of a railway complex that includes the regional office of NewRail. NewRail has its headquarters in Newcastle upon Tyne. Barrow Hill Roundhouse is a working railway centre, Barrow Hill provides NewRail with excellent facilities for full-scale rail vehicle and track investigations.
Facilities at Barrow Hill include:
14 acre site just outside Chesterfield, Derbyshire
Connected to mainline railway network
Undercover vehicle accommodation, including maintenance pits and ancillary services
Over 1 mile of running track, including a dedicated section for NewRail tests and studies
A wide range of vehicles and carriages
Engineering workshops
High performance computer modelling facilities
NewRail projects at Barrow Hill include a demonstration of the "CARGOSPEED" concept for rapid rail-road freight transfer and full-scale investigations into the behaviour of cracked rails under real vehicle loadings.
NewRail is a Centre for Railway Research at the University of Newcastle upon Tyne. For more information please contact: Joe Carruthers, NewRail, Barrow Hill Roundhouse Railway Centre, Campbell Drive, Barrow Hill, Chesterfield, Derbyshire, S43 2PR, UK or www.newrail.org These contact details were correct as of January 2009.
The Midland Railway, Butterley is the home for all the things related to the Midland Railway. There is a standard Gauge line which has steam and diesel hauled passenger trains. The main site at Swanwick has a museum devoted to the Midland Railway as well as a large collection of steam and diesel locomotives. It is a day out for the whole family with model and miniature railways, a farm and a country park as well as a host of other attractions.
The Centre is open every day of the year except Christmas Day and Boxing Day. On running days facilities and attractions are available from 30 minutes before the first train leaves Butterley. On non running days only the Railway Museum, the West Shed Experience, the Farm Park, the Demonstration Signal Box and the Victorian Railwayman's Church are available and these are open from 9.30 a.m. to 4.00 p.m.
Entrance to the site is free (although they would be grateful for any donation you care to give). The cost of train rides (2009) depends on the event being run and varies from £10.95 to £12.00 per adult (discounts are available for the over 60s) and from £5.50 to £6.05 per child (age 2 to 16). Family tickets (2 adults and 3 children) are available from £29.70 to £33.00 (except for Thomas events). Tickets are valid all day (except for Santa Specials).
The highlight of any visit to the Midland Railway Centre is undoubtedly a tour of our developing Museum Site. This is achieved by alighting from the train at Swanwick Junction Station. There are many things to see and so here. Visit Midand Railway Centre for more details.
Peak Rail run regular Steam and Diesel hauled heritage passenger trains between Matlock Riverside and Rowsley. Also on offer are an on train dining service on selected trains, and footplate experience courses, where you can get your hands on a steam engine's controls. Special events are featured at different times of the year.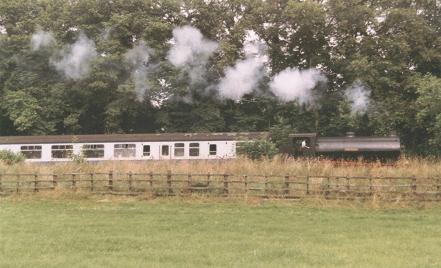 The cost of all day Rover Tickets (2009) is £6.00 per adult, £4.60 per senior citizen, £3.00 per child (age 6 to 15), £1.00 per child (age 3 to 5), children under3 years free (maximum of 2 per paying adult). Family tickets (2 adults and up to 3 children) are available from £17.00.
Trains run most weekends until the end of October, plus some days during the week in summer. In November they run on Sundays only. December sees the Santa Specials every weekend before Christmas plus 23rd and 24th December. For full details see
Peak Rail